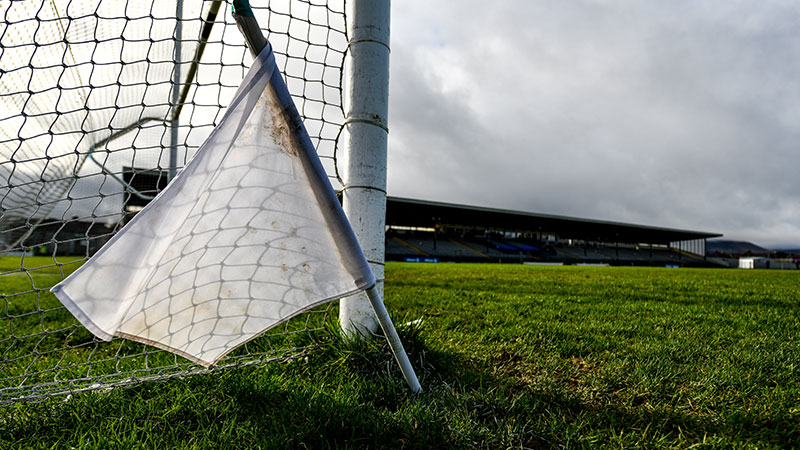 Munster Camogie Council – Development Grant 6 Proposal Summary
U8/10/12 Monster Blitzes – Counties apply to host (preferably in a big GAA stadium or county grounds), invite every team in the county to participate, no scores or standings to be kept, funding is provided to each county to run the blitzes
Cost = €250 per blitz x 3 = €750 per county = €4500
Munster 7's: U17 / Adult – Counties apply to host a blitz, funding provided to cover referees, pitch hire and any other miscellaneous costs (refreshments, face painting etc..)
Cost = €300 per county = €1800
Munster Development Grant 2022/23 – Main areas funded are as follows: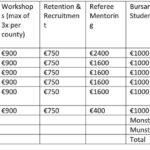 Clubs – Coaching courses, referee courses, Hurl with Me programme, volunteer recruitment, open days, holiday camps, Player Development Initiatives. Please note than only €300 maximum can be spend on coaching courses per county, regardless of the number of divisions you have or courses scheduled.
Schools – €25 per session x 2 sessions per school x 6 week block = €300. Counties can extend these sessions however they like – schools can pay to carry on or charge pupils €1-2 euro per session, clubs can fund another block or seek sponsorship/funding to continue. This MUST go through the club, the county cannot organise these for them – if there is no club buy in then it doesn't work!
Workshops – Each county has funding to run 3x coaching workshops per year, €300 per workshop to cover tutor fees + venue hire. Counties should work with the GAA to source knowledgeable tutors, use current/ex-players and run them on a regional basis to reach as many coaches as possible.
Recruitment and Retention – This funding should be used to run programmes and initiatives to attract new players and improve the offering for existing players, especially in the teenage age group where the majority of player drop out occurs. Super Games Centres, Speed Leagues or blitzes for certain age groups, Caman N Fun, Caman N Chats, Open Days, Camogie 4 Teens etc..
Referee Mentoring – The budget allows for every county to have First Whistle referees being mentored on 4x separate occasions per division @ €100 per session (2x mentors @ €50). We cover the mentoring fee only, counties should arrange to pay the young referee themselves.
Development Intern – Previously known as the bursary student, this funding is available for a student or other suitable person to perform administrative, organisational or in-person duties relating to development activities within a county. The Development Intern may oversee any of the programmes or activities contained within the development grant application, as well as any other development-related activities within a county. A rate of €15 per hour gives roughly 66 hours of time allocated to the role, or 100 hours @ €10 (roughly 1-2 hours per week) but counties can allocate the time any way they like. Counties may choose to increase this allocation of their own accord, but Munster Council will only fund a maximum of €1000.
Equipment – I would not be in favour of funding equipment for the following reasons:
 County board's should supply equipment for their development squad teams and initiatives
 I think that the equipment turnover is too high and too much would be required to give every county an appropriate allocation from Munster
 I would possibly give a dispensation for club-school link equipment, but even then you're talking €2000 at least to fund one schools equipment so how feasible is this for an entire province?!
 Who looks after the equipment that Munster buys? How do we know where it's going and who is using it?
U12/13 Development – The following conditions apply to receive Munster Grant funding –
 It has to be called a Player Development Initiative, Development Hub or something equally appropriate – it cannot be called a Development Squad, there are NO Development Squads sanctioned below U14 level
 It has to be open to anyone from any club who meets the age criteria
 There can be no 'cutting' or selection criteria, it's up to counties to recruit enough coaches for the players interested
 This cannot become an arms race where counties are focusing on lower ages every year until we have U8 Development Squads!
 Counties and province must realise that clubs need help and access to funding too, not everything revolves around counties and county development squads and county boards can facilitate clubs and divisions to do the work and do not have to control everything themselves!