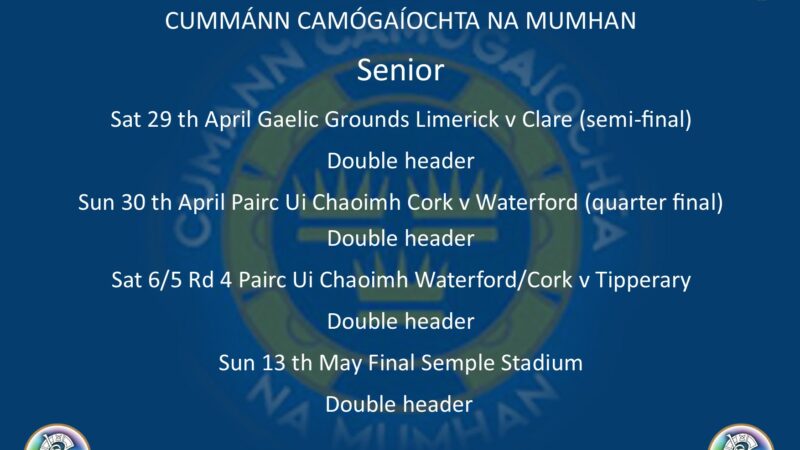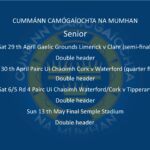 At a time when equality of opportunity and recognition continues to reside towards the forefront of the national Gaelic Games conversation the significance of the joint statement released yesterday by Munster GAA Chairman, Ger Ryan, and his Munster Camogie Council counterpart, John Foley, cannot and should not be understated.
"I have no doubt the inclusion of further games this year will continue to enhance the bond between our respective bodies" Mr. Ryan said following yesterday's press release.
Such forward looking, joined up thinking and logistical flexibility as demonstrated by both associations in co operation has seen the best possible playing venues across the province secured for this year's Munster Senior and Intermediate Camogie Championships.
Now in it's second year, this partnership initiative has, at it's core, the unified ambition of cultivating an enduring culture of mutual respect and parity of esteem for women in sport through enhanced promotion of the game of camogie.
Significantly, these games – which will comprise all of the Senior Championship in addition to the Intermediate Final – are to be played in tandem with The Munster Senior Hurling Championship as a series of exciting double headers come late April and early May.
The game of camogie has become inextricably woven into the fabric of our cultural and sporting identity and continues to grow in popularity and to thrive at grass roots level. This reality is evidenced numerically across the cities; towns; rural parishes; schools and colleges of Munster. Never before have so many been actively involved with the game, the societal and overall health dividends of which are immeasurable.
Furthermore, unit administration; child protection and safeguarding measures; player welfare; personal and substance awareness and fundamental game development continue to evolve steadily and to improve in terms of both policy and practice.
Immense credit is due to all of those who have come together in partnership and with vision to expand upon last year's arrangement by facilitating the opportunity for many of the game's finest players to showcase their extravagant levels of talent on a consistent basis at a number of the finest playing venues in the country.
In isolation this partnership initiative, now in it's second year, between Munster GAA and Munster Camogie could be seen as the nascent realisation of a wider held, national aspiration. The appointment of a steering group in relation to which is to be welcomed. It is to be hoped that in the fullness of time, through mutual goodwill, integrity of engagement and transparency, that that which has been achieved in Munster will eventually become the regular order of affairs throughout the country.
It is no more than our wholly dedicated players, whose effort is equal and personal sacrifice on a par with those of their male counterparts, emphatically deserve.
@ClareCamogie @CorkCamogie
@deisecamogie @kerrycamogie @LimCamogie
Credit Mark O'Shaughnessy